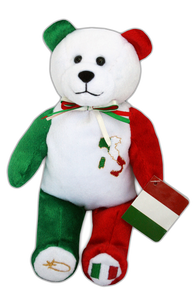 Mark Twain says "The Creator made Italy from designs by Michaelangelo." HolyBears celebrates your Italian heritage with our Italy Bear!
Greet all your leaders and all God's people. Those from Italy send you their greetings.  Hebrews 13:24
Remove all hangtags and attachments before giving this item to a child. For ages 3 and up. Surface washable. Handmade in China.